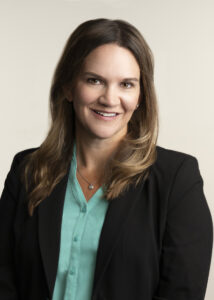 Stephanie Anacker
Email:  sanacker@sbrlaw.us
Direct:  262-333-8178

Stephanie is a litigation attorney at SBR Law and concentrates on commercial, noncompete, insurance and employment litigation.  She brings more than fifteen years of litigation experience, including trial, appeals and arbitrations.  Stephanie's clients benefit from her practical, thoughtful approach to complex litigation issues. Stephanie's track record of litigation success includes:
Obtaining a published Wisconsin Court of Appeals opinion reversing a trial verdict, leading to imposition of theft-by-contractor liability under Wisconsin's theft-by-contractor statute and civil penalties statute.
Defeating a corporation's motion for a preliminary injunction related to its non-competition agreement on the basis its agreement was unenforceable under binding Wisconsin non-compete law.
Obtaining a published Wisconsin Court of Appeals opinion affirming summary judgment for insurer on basis its intentional acts exclusion precluded coverage and its mental capacity clause did not violate public policy.
Winning summary judgment on behalf of property owners in contentious dispute over terms of the sale agreement for multi-million-dollar real estate deal.
Winning motion to dismiss claims against manufacturer by business broker under Wisconsin broker commissions statute.
Obtaining, as co-counsel, order for dismissal following trial to the court over property owner's claim corporation breached its contract for purchase of land.
Obtaining and collecting a six-figure attorneys' fees award for a client in a theft by contractor dispute arising out of a public works project.
Stephanie has extensive experience in insurance matters, is an integral part of SBR's litigation efforts regarding Wisconsin's unique noncompetition law and has extensive experience in effectively handling and utilizing the substantial amount of information exchanged and used in complex commercial litigation.
Stephanie has been recognized as a Rising Star by Wisconsin Super Lawyers.  She is a member of the State Bar of Wisconsin and the Waukesha County Bar Association.
Education
Marquette University Law School, 2005 (J.D.)
St. Norbert College, 2002 (B.A., magna cum laude)
Admissions & Activities
State Bar of Wisconsin
U.S. District Court, Eastern District of Wisconsin
U.S. District Court, Western District of Wisconsin